A Guide To Buy Nursery Items For Baby
When buying for baby, the wide array of the offer can easily get one carried away with unnecessary items, such as tricked-out strollers, over-the-top cribs, cradles with canopies and video nursery monitors equipped with sound and lights. Parents are usually overwhelmed by the impressing selection of items and the cute products that they can place in the nursery. However, this guide will help you notice which items are truly necessary before spending a lot of money on insignificant merchandise. You will know the must, maybes and those items you can borrow or get secondhand.
Must and Nice-to-Have Items for a Nursery
Baby swings are a must have because they prove to be a break for the parents from holding the baby in their arms at all times. In this way, they can use that time to do house chores while the newborn is quieted by the swinging motion, even when it may be fastidious. Following the best baby swing reviews from 2016, some aspects that should always have to be taken into consideration are weight and age. Moreover, the baby swing should have appropriate safety features such as tight straps and a firm base and frame.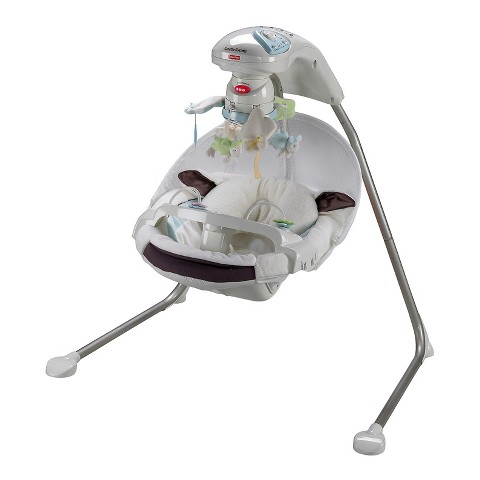 Bassinets or cradles are not an indispensable item in a nursery since parents may choose to start using a crib right from the start. However, they are helpful for many different reasons. They are portable, so the baby can be moved through the house when the baby is sleeping. They are also cozy, and when babies feel comfortable, they sleep better for a longer time. When looking for a bassinet or cradle, parents should prioritize models which are wide and stable. If the bassinet or cradle is secondhand, it is important to stay away from antiques, as they may have rough, pointing edges or paint containing lead. The measure of the sides from the mattress to the top has to be at least eight inches and the latter has to be secured and firm so that the baby does not fall out.
Certainly, a crib is a must and this purchase is one of the biggest decisions as regards baby items. The first thing to be taken into account is that it fits the present safety standards, no matter if it is new or secondhand. After that, you may move to special features such as storage drawers to keep the nursery tidy. Other cribs can be converted into a toddler's bed once the baby grows up. You should avoid those cribs which have dropping railings because they were banned by the Consumer Product Safety Commission back in 2010. It is also important to buy a new comfortable mattress for babies since they spend up to 16 hours on it daily. To make sure it is the appropriate mattress, see that you cannot place more than two fingers between it and the rails.
As regards changing tables, any table or dresser will be useful to change the baby's diapers. What needs to be done is to get a thick pad that secures the baby with tight straps. But many choose to get a changing station because it serves a definite space where to take care of that business.  A table which combines a space where to change and dress the baby saves up space and many of them have storage space underneath. Again, safety straps are necessary and the model should be stable. Remember that babies should not be able to reach jars and tube, but they will certainly try to.
Nowadays, gliders are far more popular than rocking chairs because of their stability. They are certainly not a necessity, but they are nice for nursing or feeding by bottle and for snuggling. It is a good idea to get a secondhand one because it will probably have lots of use still to offer. If you choose to buy a brand new one, the most important aspect is that it feels comfortable for you.
Finally, an absolute necessity is a baby monitor. It will save the overtime you would spend looking at your baby's crib, and allow you to move rooms. Even in small places, a monitor will allow you to close the nursery's door to avoid waking the baby up, while you are still aware of what's going on inside. There are models which are only equipped with audio and also those which allow you to see your baby on video.
After reading this nursery items guide, you can see plenty essential baby products visiting our website.